History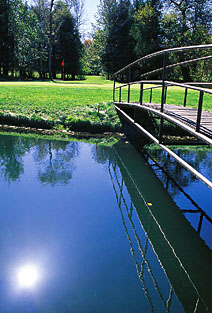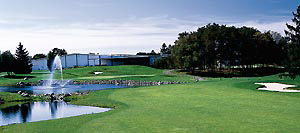 A booming economy in any community during The Great Depression certainly was an unusual happening. This, however, was the case during the late 1920s and early 30s in the oil town of Mount Pleasant. Because of the sudden discovery of oil east of town in an area named Oil City, things were popping. New faces and business opportunities made for a happening place. Therefore, not many people were surprised when a golf course was built southwest of Mount Pleasant. The course was first named Cedar Springs because of the many springs and cedar trees along the Chippewa River. Cedar Springs was built and operated by Ray Moss and his two sons, Karl and Ben. After a short time, the nine-hole layout became known as Moss Golf Club. Construction on the first nine holes was difficult and demanding since it was done by hand only with the help of horses. The family figured that the land would be better used for a golf course than farming. As golf began to catch on and the area continued to grow, a second nine was added along with a new clubhouse in the mid-1940s. This was a popular place for dances (including college formals), wedding receptions and the like. The piano, which was used for these formal occasions, is still operating today. It should be noted that the Moss family was responsible for establishing the first 18-hole golf course for many miles around. The Moss family sold the golf course to the Figg brothers of Shepherd in the spring of 1960. Brother Bob opted to remain with his farming interest in Shepherd, leaving brothers Dick and Bill in charge of the golf course.
In 1961, the Dick Figg family included wife, Betty, and four children — Marty (four), Terri (three), Doug (two) and Cindy (one). Dick then bought out his brother and has continued to run the golf course ever since. The course was known as Figg's Golf Course in 1960 but was renamed Riverwood Golf Club in 1962. Many changes have taken place in the last 45 years:
An additional nine holes were added in 1967, making 27 holes.
A new clubhouse and 24-lane bowling center were constructed in 1972; holes No. 3, 4 and 5 on the White course as well as a new driving range were added in the same year.
In 1985 a gourmet kitchen was built.
In 1989 a housing unit was constructed for guests to stay and play on site.
A new entrance with a fountain and landscaping were completed in 1991.
During 1993, a 100-unit cart barn and new 3,200 square foot Pro Shop were constructed. Remodeling of the old cart barn space created a new 200-person meeting/banquet room and an 80-person "Gimmies Bar & Grille."
Holes No. 7, 8 and 9 on the White course were remodeled and ready for play in 1996.
Extensive cart path work on all three nines was done in 1998.
Reconstruction of holes three and four (White course) in 2002.
In 2012, 989 Bar and Grill was born. Creating a local and community based dining experience.